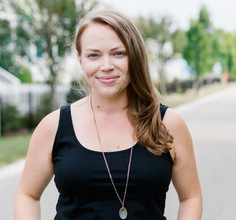 She/They
LCPC, Gender Therapist
Whenever possible, I spend my time playing with my cats, reading a good book, cooking a new recipe, facilitating plant growth or exploring a found object art project.
As a therapist serving Nonbinary and Transgender clients, as well as 2SLGBTQIA+ populations broadly, I am acutely aware of the systemic, institutional barriers that continue to cause harm in people's lives and am deeply committed to using my time in this life to improve the lived experiences of queer and transgender people.
I provide empathic client-centered counseling for anyone looking to align their lived experience more closely with their values and identities. Of all the beliefs and commitments that motivate my work, none is more important than the calling to imagine and work toward more just and equitable futures. My work is rooted in an anti-racist, intersectional, anti-oppressive frameworks. I am passionate about empowering people to listen to their own voices and live the lives they want to live. I love talking to people about gender, their identities and how the process of meaning-making impacts their lives. I provide affirming therapy for transgender and gender diverse children, adolescents and adults.
I have 8+ years of experience serving the 2SLGBTQIA+ community as a therapist and have provided training for emerging therapists and other professionals. I am a Nationally Certified Counselor, have a Master's Degree and Education Specialist degree in Mental Health Counseling with a minor in Human Development and an undergraduate degree in Gender Studies. I have specialized training in mindfulness therapy and distance therapy.
My approach to therapy is eclectic. Every therapeutic relationship is unique and tailored to the needs of the individual. First and foremost I believe that each person is the expert in themselves. I am here to provide guidance on your journey to greater self-knowledge and self-acceptance. Together, we will decide how sessions should look for you. We will work to understand the roots of what you are experiencing and craft skillful approaches for you to take. To do this, we may borrow from several theories including: EMDR, Dialectical Behavior Therapy, Existential Theory, Radical Acceptance, and Internal Family Systems Therapy. We will determine together which pieces of these, if any, will help us. Together we will work to achieve two seemingly contradictory tasks: to accept yourself as you are and to work to become more skillful and self-aware.
Individual Sessions: The first session is $185 (Code 90791). Sessions after that are $175 (Code 90837). You will receive monthly superbills (special receipts) in case you want to submit them to your insurance or FSA for reimbursement. If you have out of network benefits, you will end up paying out of pocket likely $40-$100 per session. I have a limited number of reduced fee appointments, with priority given to QTBIPOC. Please ask about any openings when you call.
Family/Relationship Therapy: The initial session is $190 (Code 90847) and sessions after are $170.
Please know that any communication or dealing with reimbursement denials are between you and your insurer. You always have the right to appeal denials with them, and request assistance from the MD State Insurance Commissioner. However, we do not become involved in those communications.