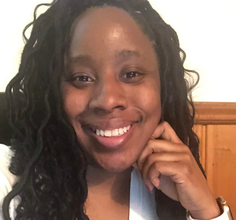 She/Her/Hers
LCSW-C, Team Lead
I'm a Black, pansexual therapist whose pronouns are she/her/hers. I'm looking forward to meeting you.
Couples/Relationship/Family Therapy: Relationships are hard, okay?! The healthiest, happiest connections still need tune-ups and adjustments now and then. I'm trained in PACT couples therapy method and utilize that in family sessions and with alternative family and relationship structures as well. Here's what you can expect in a PACT session:
Sex Positive Therapy: Most of us have challenges related to our sex lives at some point. It's not something that's openly talked about in society in healthy ways and a lot of times it feels taboo to bring up in therapy. Sometimes difficulties related to sex can be due to traumatic experiences, relationship problems, or health conditions. I believe that if you are someone who wants a vibrant and fulfilling sexuality, that is possible to achieve and you may just need a non-judgmental place to process and explore ideas and experiences. You are deserving of pleasure and connection with yourself and others. We can identify barriers and come up with healing plans so you can get there. Talk about fun therapy homework!
Adolescent/Teen Therapy: I've learned a lot in my experience working with middle school and high school adolescents and their families. The young people I hold space with find me approachable, willing to learn about their day to day, and somebody who can help them understand more about who they are on the inside and what they want their future to look like. I'm affirming of all gender identities and sexual orientations. Whether a teen's parents are 2SLGBTQ+ or the youth might be, I can offer support. Parents or guardians may need a place to talk about their concerns, questions, or relationship with their child. We can do this together!
Trauma Recovery: It can be scary to decide to go on a healing journey in regards to trauma, past or present. It's hard to know what to do or how to do it and a lot of times there's a fear that facing it will be too overwhelming to do what you need to do just to get through each day right now. Maybe you've noticed dissociation that's caused some problems for you or other people in your life, intense emotional responses to triggers, or numbing or avoiding reminders. Maybe you know that intergenerational trauma is affecting the way you move through life now. We can tackle these things together and go at your own pace. Your own cultural and spiritual practices can be a powerful resource in this recovery work.
Payment Information: We are out of network with insurance companies for many reasons. Our billing specialist can submit claims for you so you can receive reimbursement from your plan includes that option. If you'd like to use your out of network benefits, please verify them with your company, as well as whether you have to meet a deductible first. I've listed the billing codes here you can ask about. Most plans pay you back 50%-80% of my rate. Once our biller sends a claim, it is out of our control regarding when, whether, or how much your plan reimburses you and you will need to follow up with them regarding your claims and reimbursement.
Individual Sessions: The first session is $180 (Code 90791). Sessions after that are $170 (Code 90837). You will receive monthly superbills (special receipts) in case you want to submit them to your insurance or FSA for reimbursement. If you have out of network benefits, you will end up paying out of pocket likely $40-$100 per session. I have a limited number of reduced fee appointments, with priority given to QTBIPOC. Please ask about any openings when you call.
Family or Couples/Relationship Therapy: The initial session is $220 (Code 90847) and sessions after are $200.
Please know that any communication or dealing with reimbursement denials are between you and your insurer. You always have the right to appeal denials with them, and request assistance from the MD State Insurance Commissioner. However, we do not become involved in those communications.