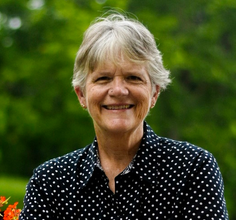 She/Her or They/Them
LCPC
I have over 20 years of experience being a therapist and counselor educator. I have a Master's Degree in Mental Health Counseling and a PhD in Interdisciplinary Studies. Additionally, I have specialized training and experience in Multichannel Eye Movement Integration, mindfulness, clinical supervision, and distance-based counseling. I am licensed in both DC and Maryland so can see people who live in either of these locations.
When not working, I fill my time with fiber arts, exploring thrift stores, reading, and hanging with my cat and dog. I'm white and non-binary. My pronouns are she/her or they/them.
Culturally Affirmative Therapy with Deaf and Hard of Hearing People: I have extensive experience working with Deaf community and am familiar with Deaf culture. I'm bilingual in English and American Sign Language and one of my joys is assisting Deaf and hard of hearing individuals with life transitions, trauma recovery, and relationship challenges.
Healthy Relationships: One area of interest for me is in assisting people who want to improve their relationships. Whether you want support in parenting, building friendships, improving romantic partnerships, or finding connection with, and as, elders, I'm here to provide encouragement, feedback and support in understanding relationship patterns and styles. We can work on this individually, or in couples or family configurations.
Anxiety and Trauma: Anxiety can show up as worry, repetitive thoughts, irritability, tension, stomach pain or nausea, and a number of other ways. Trauma can manifest as having nightmares, staying alert and on edge, reliving past events, chronic illness or pain, dissociation or numbing, difficulty in various types of relationships, along with other symptoms. It can sometimes feel like there's no hope for changing these things or living without them. I believe you can find relief from anxiety or trauma responses and am here to offer possibility of a new way of being and concrete healing strategies.
Parents of Trans and Gender Expansive Individuals: Parents usually want to be supportive and affirming but sometimes aren't sure how. They may want information, resources, or a place to process their own emotions as changes take place. I'm here to help parents adjust and maintain a close relationship with their child.