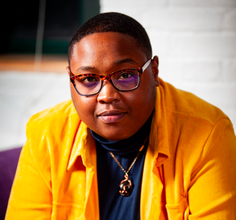 I'm a proud Morgan State grad with clinical and macro-level social work. I care deeply about my communities- BIPOC and trans. My experiences working in the public defender's office, as well as the public school system, inform my training content related to working with LGBTQIA+ individuals involved in the justice system, creating affirming school environments for QTBIPOC children and teens, healing the effects of toxic masculinity in masculine people of color. My clinical experience informs my trainings on writing gender-affirming surgery letters and other trans-related topics. 
LGBTQ+ Teens Ages 16+: Adolescence is not an easy time by any means. There are a lot of aspects of yourself to get to know and understand. Sexuality and gender identity are examples of this. Therapy can be a supportive place to talk about anything without judgment while you're figuring things out. Maybe you know all parts of yourself well by now and just want to work with somebody who shares some of your identities to process other stuff that's going on in life.
AFAB Trans Folx: Whether transmasculine, nonbinary, or another gender, trans people who were assigned female at birth have had some similar experiences and can face some specific challenges. I can be part of your care team, your support network, and assist you from a place of firsthand and professional knowledge. Let's get in and do the work!
Payment Information: First individual session= $150; following sessions= $140
We collect the full payment and you'll receive monthly superbills (special receipts) in case you want to submit to your insurance or FSA for reimbursement. If you have out of network benefits, after reimbursement your session fee may be $30-$90 out of pocket depending on your plan.
I have a few reduced fee spots. If needed, please ask if one is available when you call or email our office.
Please know that any communication or dealing with reimbursement denials are between you and your insurer. You always have the right to appeal denials with them, and request assistance from the MD State Insurance Commissioner. However, we do not become involved in those communications.